I recently posted a new site on
Rock Piles
, a place I visited last spring, but missed the best site on the top of the mountain.
This is a structure I found in this same general vicinity. Leading up the mountain, some rocks on a boulder. Here is a side view. When I find something like this, I'm always looking for an effigy:
Here's a view from the top. For a long time, I thought this doesn't look like anything I can relate to:
But now, I'm wondering...
...if this looks like: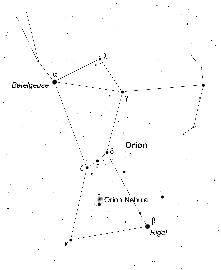 This image is from
Jodrell Bank Observatory.
Well, it's known commonly as Orion, but some call him Long Sash.